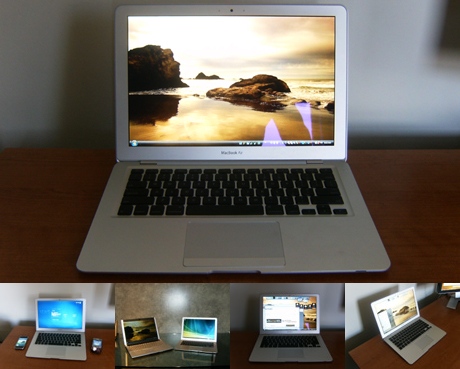 With iPhone development in full swing here at
Efiko Software
, I need a Mac to test things, thus making the perfect excuse to get the MacBook Air. Man, this thing is gorgeous, like unreal gorgeous, like holy smokes, what is this in my hand? I had hopes that running Vmware fusion or boot camp, this would now be my default Windows computer,
replacing my Dell XPS 1330
. All this was initially dashed with the maximum 80 gig hard drive on the MacBook Air. Man, that is just straight whack. What the heck am I supposed to do with an 80 gig hard drive when my music library is already going on 20 gigs and el jobso wants us to digitally rent gigs and gigs of DVD movies since there is no DVD drive on the MacBook Air.
In fact, I suspect the MacBook Air can support at least 120 gigs, but in the name of unnecessary hype, Apple will wait some months before they release this just to generate new buzz as they did with the iPhone. A special thanks to the genius marketing of Phil Schiller. Total foolishness if you ask me. I mean, how retarded is it that the iPod has double the hard drive space than the MacBook Air or
Toshiba ultra portable laptops have 120 gb hard drives.
But like any Apple product these days, it is just too tempting to resist, so streamlining my data I was able to fit everything into a 50 gig partition using boot camp. In fact I had to reinstall mac os x to it's barebones( removing iLife, idvd and garageband templates, etc ) to gain more space.
A funny thing also happened this week that made me really appreciate just how amazing this laptop is. My Dell had a paper clip stuck in the dvd drive requiring a Dell specialist had to come by and essentially disassemble the whole thing to replace the dvd drive. Having a look at the internal parts of the laptop gives one a greater appreciation of what it takes to build these things. Speaking of DVD drives, Apple's decision not to include one is absolutely brilliant. I have had the Dell XPS 1330 for about 6 months and I think I used the DVD drive once or twice and looking at my Dell XPS 1330 dvd drive you appreciate just how much space one saves not having this. The only issue now is that the MacBook Air gets hot really quick. You could fry an egg on this thing as am typing. While this laptop is borderline unreal, I would not recommend anyone buy it yet. It is still a 1.0 device and am sure there are many more kinks and glitches that need to be worked out. Once Apple fixes these and increases the hard drive, you need to head straight to the nearest Apple store near you and get one.